12 Proven Keys That Will Make You Achieve Greatness, Part 3 of 3
I've interviewed some of the world's greatest CEOs, entrepreneurs, and visionaries. Taking their wisdom and common traits plus my own studies and
experience, I've discovered the 12 keys to achieving greatness—not only in business, but in life.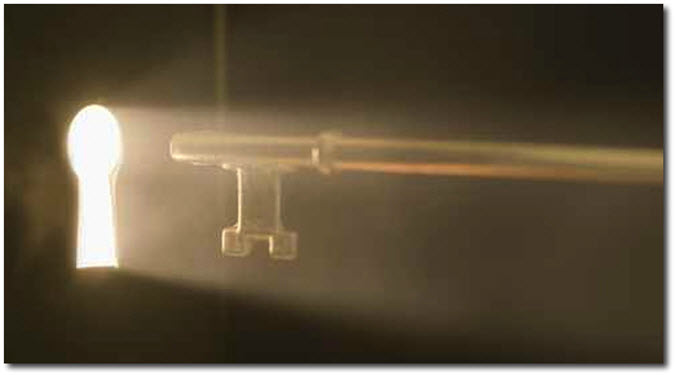 We're in the home stretch with the final four keys. You can catch up with the first four keys (See 12 Proven Keys That Will Make You Achieve Greatness, Part 1 of 3) plus the essential Whole Health Spider Graph and the second set of keys (See 12 Proven Keys That Will Make You Achieve Greatness, Part 2 of 3).

9. Fearlessly serve others. This is one of the golden keys to happiness and greatness: when you don't know what to do and you're stuck, the surest remedy is to help someone else. It will lift you up in ways you cannot imagine.
I understand that not everyone can donate thousands of dollars to charity. I get it. But that doesn't mean you can't contribute and help folks in need around you.
Volunteer your time to a cause that is meaningful to you. (Find opportunities in your area at sites like www.voluntermatch.org.)
Practice random acts of kindness every day. If you're boarding a flight and someone is struggling with their bag, help them. Open the door for the mom with the stroller.
The more you do this the more you will realize how gratifying it feels and it will help you overcome selfishness and move you towards being a great person.
Ask yourself: What can I do to serve others in some way every day? What cause am I passionate about? What can I do to contribute to that cause?
10. Explore your talents. Every person has a skill or interest that they excel in and that they absolutely enjoy. If you don't think you have a talent, you probably just haven't found it yet. I'm always amazed by people like Susan Boyle and Paul Potts ( See Susan and Paul's videos) who found their greatness in middle age.
Don't give up or be lazy. Try things until you find what you love and are good at. Enroll in a class you're interested in, or pick up a new instrument or sport. Choose things that are appealing to you.
Exploring and sharing your talents will open you up to the fullness of who you are. And who you are is great.
Ask yourself: What am I talented at? What am I interested in learning or pursuing? How can I explore that?
11. Do what you love. If you want greatness you're going to have to get out of your comfort zone. No matter how much money you make, you're not going to be happy if you spend your life doing something you hate.
Not all of us are lucky enough to make a career out of our favorite hobby, so it is doubly important to at least devote some of your weekend or evenings to doing something that you really enjoy. It doesn't really matter what it is. You've got to engage this side of you or it's going to drain you.
You've got to devote free time to a favorite hobby or sport. Don't let life get in the way. I know it's tempting to spend time in front of the TV or computer screen, but it's important to do things you love if you want to have a fulfilling life. (In an upcoming article I'll share how to figure out what you love to do and are absolutely great at in your professional life.)
Ask yourself: What do I love doing? How can I incorporate more of that into my life?
12. Practice self-control. For centuries, people a lot smarter than me have said you have to find the balance between work and play. Maybe not in those exact words, but balance is crucial. I'm not sure total equilibrium is possible, but it's a worthy goal.
Exercise self-control in all areas of your life. If you're constantly indulging in partying or eating sweets, eventually you'll become bored with life, and nothing will satisfy you. Instead, you have to indulge from time to time so you can truly appreciate them.
If all you do is work and you struggle towards your goals without any free time, then you're going to get burned out and resentful. Strike that balance between work and home/talent/what you love.
Ask yourself: Where am I indulging? Where do I need to apply more self-control to achieve a more balanced life?
These 12 keys are a lot to take in, and it may take some time to fully employ each key into your life. Download and print out this infographic as a handy reminder of these 12 keys.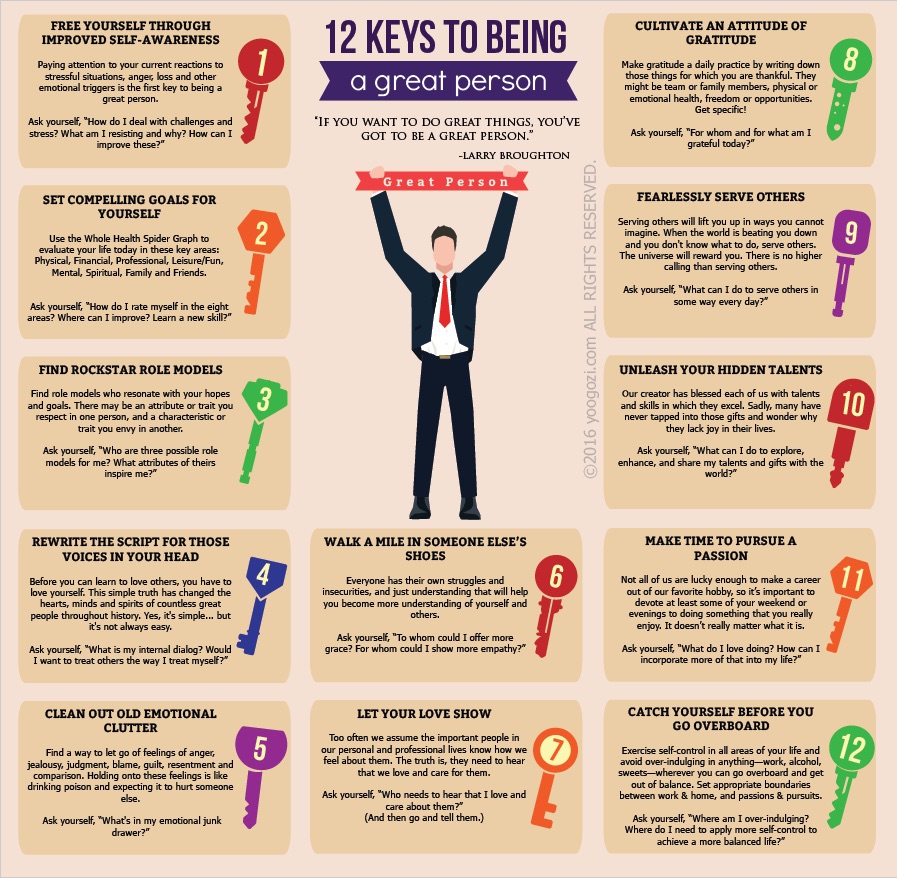 Here's what I don't want you to do: think, "Well that was a nice article" and move on, or take a few notes and put your notebook on a shelf. These keys are meant to be lived! Please trust me – the time you spend evaluating yourself and integrating these keys into your life is the wisest investment that you'll ever make.
Have you tried implementing the first eight keys in your life? How was the experience? Will you apply these last four keys as well? Please share your answers below.