The Entrepreneurial Journey – Business or Bust!
It's true that America has been built on a foundation of ideas, ideals, and economic freedom.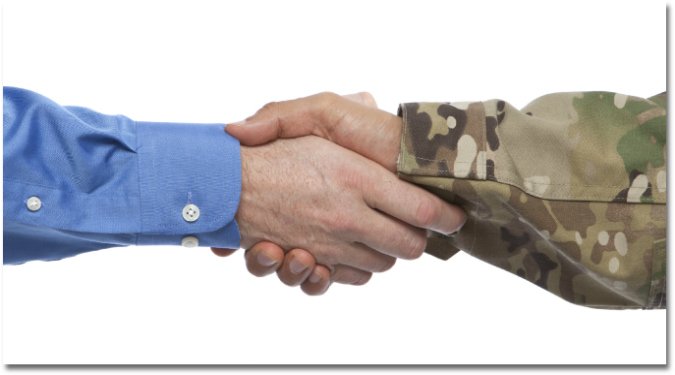 While many point to Wall Street and Washington, D.C. for our many accomplishments, innovations, and vibrant workforce, the fact is, veterans and veteran-owned businesses have done much of the heavy lifting throughout our history to make America the overwhelming force for opportunity and good deeds in the world.
Since our country's founding, men and women have stepped up to serve in defense of our ideals, and then stepped back into civilian life and continued to serve – many, through a life of entrepreneurship and business leadership.
Related: Why Veterans Miss War
Veterans and Entrepreneurship
Some of our most interesting and innovative brands of the past few decades have been launched by veterans who have come home to serve through entrepreneurship, including Nike, Mail Boxes Etc., FedEx, AOL, Chick-fil-A, Little Caesars, and GoDaddy.com.
While our nation's veteran business owners continue to possess the tenacity, discipline, and adaptability to create stellar companies, we can no longer rest on the laurels of past vetrepreneurial successes. The fact is, like many good things left unattended or neglected, veteran-owned businesses have been in a generational decline in the U.S.
While nearly 50% of World War II veterans and 40% of Korean War veterans returned home and launched businesses, of the estimated 200,000 post-9/11 transitioning veterans each year, only 4.5% are choosing the path of entrepreneurship.
You may be asking yourself, "so what?" Well, if veteran business ownership could just reach the levels of Korean era veterans, we would add 1.4 million new vetrepreneurs to the marketplace, and create approximately 3.5 million jobs.
The unemployment rate in the U.S. would be significantly reduced, economic wealth for our veterans would be increased, and the multi-generational chains of poverty that plague many veteran families would be broken.
The great news is (based on my own research of interviewing hundreds of the country's top CEOs and entrepreneurs, combined with research and surveys found by a simple Google search), veterans share the very same traits found among the very best entrepreneurs and business leaders in the U.S.: selflessness, dedication to mission, tenacity, integrity, and adaptability, to name just a few.
Research by Korn Ferry found that veterans are 1.8 times more likely to succeed in business than their non-veteran counterparts; while the Small Business Administration claims that their number one indicator of success in small business ownership is veteran status.
Why Veterans Shy Away from Starting Businesses
So why aren't more veterans starting businesses? Well, without sounding like I'm dodging the question, the answer is, "it's complicated."
Many veterans have the entrepreneurial desire, but they lack some of the basics on how to launch a successful and sustainable business, access capital, tap into resource networks and supply lines, and identify mentors and team members who are bolder and brighter than they are.
Additionally, veteran "want-repreneurs" lack current vetrepreneur role models. Veterans have a natural affinity for other veterans and would be well-served by business owner mentors who are also veterans, yet oftentimes, most veteran-owned businesses don't self-identify or publicly share their veteran status.
Role models are, however, out there waving the banner for veteran business ownership and providing some of the very best entrepreneurial training and support in the country.
National programs like the Entrepreneur Bootcamp for Veterans (EBV) and V-WISE Programs from the Institute for Veteran and Military Families (IVMF); the Boots-to-Business Program through the SBA's Office of Veteran Business Development; and regional organizations like The Rosie Network in San Diego, California offer transitioning service members, family, and veterans all they need to launch and grow their ideas into reality.
I realized early in my military career that training, preparation, and proper mindset fuels courage. Since the entrepreneurial journey will be one of the scariest and most difficult you'll ever take (and the most rewarding), you'll need a heaping helping of courage. The truth is, however, in leadership, entrepreneurship, and life, courage changes everything.
Larry Broughton is a veteran of the U.S. Army Special Forces, CEO of broughtonHOTELS and yoogozi.com, and has been awarded Ernst & Young's Entrepreneur of the Year, NaVOBA's Vetrepreneur of the Year, and Passkey Foundation's National Business Leader of Integrity award. He is a keynote speaker and best-selling author of the upcoming book "VICTORY: 7 Revolutionary Strategies for Entrepreneurs to Launch Your Business, Elevate Your Impact, and Transform Your Life" to be released in December 2017. Please visit www.LarryBroughton.me to learn more.