How to Dominate the Media to Build Your Personal Brand, Part 1 of 2
I recently shared with you the 8 Essential Elements to Build Your Personal Brand. Owning the media – getting the word out about you and who you are – is such a big piece of the personal brand puzzle that I'm devoting two articles to this one topic.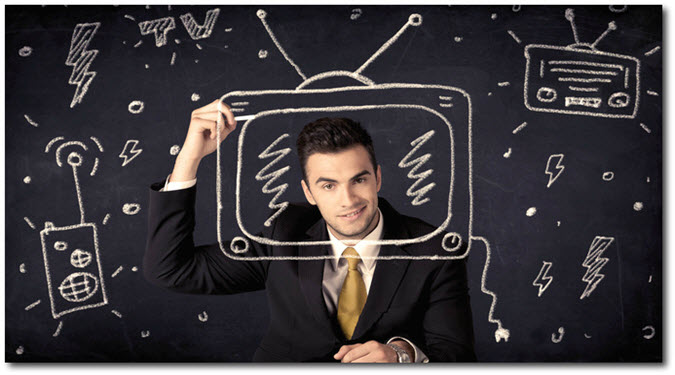 Sorry, but like it or not, you must become a prolific writer.
Writing content and sharing your insights is the foundation of your media plan which includes:
• Social media – memes and posts
• Blog posts
• Articles – by you and about you
• Books
• Speaking
• Radio & podcasts
• Television
What if you say to yourself, "I'm a terrible writer, I don't like to write. I can't string sentences together, but I can speak well." So, instead of writing it, record it!
Make a CD to hand out or sell and a MP3 file for digital downloads.
Many of you have at least one CD set from me or some other trainer/mentor.
What I have also done, and what you can then do, is have it transcribed and you've got one or two or ten blog posts and articles.
If you feel comfortable on camera, shoot some videos (this has the added advantage you can place your content on youtube, as well as help people get to know you a little better since they can see your pretty face).
Just start creating content that includes both information and your insights into your industry and area of passion.
Social Media & Blogs
I previously laid out a simple strategy to start writing on your social media pages and turn that into blog posts.
And your blog is only the beginning. Get a steady stream of content on there, and then you'll get a steady stream of regular readers.
Don't forget to ask your readers to share your content to reach an even wider range of readers.
The next step in your social media strategy is to start commenting on other people's posts and tweets. I'm not great with this—I have a love/hate relationships with social media—but what I find is that every time I engage with somebody that has a large tribe and I make a halfway articulate statement, they look at my stuff and they start following me; I've had some people who have 50,000+ followers commenting on what I say and all of a sudden I get a slew of followers or a spike in the number of people hitting the yoogozi.com site.
Articles
There are two kinds of articles in your media strategy: articles by you, and articles about you.
Articles by you – Once you've got several blog posts under your belt, start writing articles about your industry and/or area of passion and submit those to different publications.
Think about your local daily newspaper (both digital and print versions), the local business journal, weekly newspapers in your area, or industry newsletters and magazines. They're all hungry for good content that will inform, engage, or entertain their readers. (Tip: before submitting your article, check the publication's website for editorial guidelines and submission requirements.)
Articles about you – It's going to be hard to get articles written about you if you're squirreled up in a hole somewhere and not stepping out and making bold statements.
Publications write articles to sell publications. They want to have some kind of innovative or provocative statements, or a countering point of view on things.
So who is interested in publishing an article by or writing about you? Here's a short list:
• School, college or university alumni magazines and newsletters
• Hometown newspapers
• Weekly throw-away newspapers
• Affinity publications and sites
• City & regional publications
• Industry and trade magazines
• Major lifestyle and business magazines
• Professional association newsletters
• Major daily papers
• Books
If you went to college, most schools have an alumni magazine.
If you grew up in a small town, most hometown papers love doing "small town girl makes good" type of stories.
There are tons of weekly local "throw away" papers from entertainment, to lifestyle and alternative news publications.
If you are your own PR person, list every affinity group you belong to or support (Boy Scouts, kayaking club, Rotary, lacrosse, etc.), every city you've ever lived in and every school you've ever gone to.
This is the beginning of your media hit list where you'll send your press releases.
We get great traction from our industry association trade publications, even more so than a national business magazine. When I write an article for the California Hotel Lodging Association, we receive more hits on the business development page on our hotel company website than when I'm published in a lifestyle magazine. Why? Because there's a self-selection process that happened. These are people who are already interested in what I'm doing by virtue of their membership in the association.
These are all great ways to build your influence, attract customers, build your personal brand, but again it takes courage to get out there. Start small and grow it from there.
Books
If you wants to be thought leader, you must write a book. If you're writing social media posts, blogs, articles and white papers, then a book isn't far behind!
Don't worry about your first book. Most of you have probably heard of Seth Godin who has written 18 books; many of them are New York Times® bestsellers like Tribes and Purple Cow. But you probably don't know that his first book was co-authored with one of my former business partners. It was a quote book called Business Rules of Thumb, published in 1987 (I've got a copy in my office). All they did was pull a bunch of quotes from other authors they'd read, and people they knew, and interspersed their own quotes and made it a book.
That was Seth's first book. But you don't see it anywhere. When you look at his bibliography or his accomplishments, that book is not in there.
My point is, get your first book written. It does not need to be War and Peace or your personal manifesto. It does not need to be the book that defines you for the rest of your life.
And it doesn't even need to be a real book yet! What the heck are you talking about, Larry?
Well, reflect on what type of books you can write.
Aspirational Books
Develop some book covers for books that you think you want to write. Not that you're going to write, but that you want to write. I call these "aspirational books".
Post these book covers on your personal site (and your business site if appropriate) under the header "coming soon" or "author of the forthcoming book."
My latest book, FLASHPOINTS for Achievers: Inspiring Messages That Bring Significant Results – a Daily Journal, sat on my website as an aspirational book cover for seven years. I put it up there in 2007 when Donny Deustch said, "You need to put these things in a book." So I developed the book cover – and then Darren Hardy, then-publisher of Success Magazine, told me the same thing. That's when I started getting active and putting that book together.
I've gotten speaking gigs because of these aspirational book covers. One of them became a CD instead of a book, but just start plotting out some ideas now on some possible topics.
They could be about your industry or what you're passionate about. Then get some book covers up on your site!
Real Books
When I say real books, I mean the kind that you can hold in your hands, pass out at conferences and sign after a speech.
E-books definitely have a place in today's literary landscape and your real book will probably have an e-counterpart, but for this strategy I'm talking about an actual, physical book.
Your book will fall into one of these categories:
• Traditional publishing
• Self publishing
• Government publishing
• University publishing
Self publishing is where most of us will go. There's no longer a stigma attached to self publishing. And here's the thing: even the big publishing houses expect you to do marketing!
If you do approach one of the traditional publishers, they're going to dig deep and ask a lot of questions about you such as "what is your tribe like" and "how big of a sphere of influence do you have?" Most of us don't have the sphere of influence of a Colin Powell or Rudy Giuliani or Bill Clinton, so we're not going to get a half million dollar advance.
Another aspect to consider is whether your book will be written solely by you, or with a co-author, or part of a compilation book.
A compilation is a great way to get your first book published. I knew for years that I needed to get a book done. I was asked to participate in a compilation book called The Next Big Thing. This is a model where the book publisher or organizer solicits chapter submissions from a dozen or more authors. Many book compilers charge the authors to be in the book—anywhere from $1,000 to $2,000 (and higher than that, in some cases). At this point in my career, I've been asked to participate in a couple of these types of programs to lend credibility and validation to the book's other co-authors (and I'm fortunate that I don't have to pay to be in the compilation books, yet my message and profile is still spread), but most of us can write one chapter with little effort.
Once the compilation book is published, the organizer has a bestseller campaign where they tap into each author's tribe and get people to buy the book so it hits bestseller status on USA Today or amazon.com. When the book is a bestseller, each author can now call themselves a "bestselling author."
Another way to get a book under your belt is to take on a co-author. My book VICTORY was co-authored and self-published. Then I had a university publishing house publish a book that I co-authored, and the Small Business Administration published almost the same book under a different title.
For my latest book, FLASHPOINTS for Achievers, I was the sole author.
So I've got a mix of authorship and publishers, and when all these book covers are on the website, it's an impressive list. This is the social proof that I mentioned previously.
My point is this: everyone has a book in them! Start small and dream big. And get those book covers up!
Did this article offer you any insights or Ah-Ha moments? What have you done to get your ideas, expertise and insights on to paper, into books, and published for the world to see? What's your next step? I'd love to hear about it below.