Hank & Sharyn Yuloff: Our 3 Most Important Tips to Avoid Marketing Obscurity
There are three things in marketing that we quite often neglect to do, or simply stop doing, that will wipe out all our gains and steal our momentum.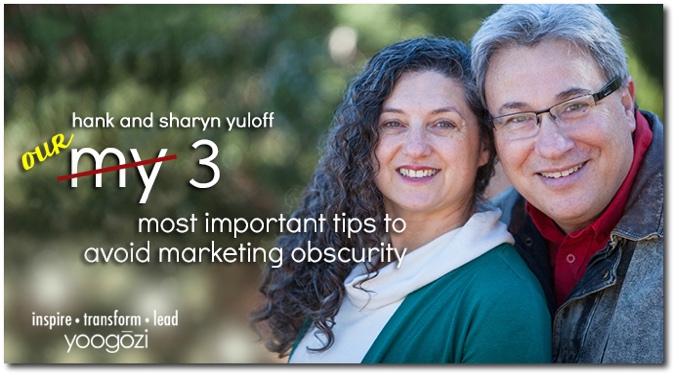 They are neglecting to: 1)  create simple messages because we have so much to say; 2) embrace online marketing because of the time and effort it takes, and 3) think of marketing as one of the most important aspects of our business, and thus not being consistent in our efforts.
Simple Messaging
We all want to come up with that killer phrase that puts our message right on top of the minds of our clients.  We want to be the next "Just Do It," or "Melts in your mouth, not in your hand," or "I'm going to Disneyland," or "A Hotel Management Company with Ideas."
We may want that simple message, and it's doable, but it's hard to come up with!
Even though it's hard, we must distill our message down to the very basics. In that message, we have to show our clients we know who they are and what we are going to do for them.  This makes it much easier for prospects to relate to us right from the beginning.
For our promotional product firm, we searched for YEARS to come up with something that was not a trite offshoot of, "The only advertising that people love getting" or, "Buy real estate on your client's desk."  Oddly, that one came by accident when one morning at a chamber breakfast Hank stood up and said that we "pollute the world, one t-shirt, calendar and coffee mug at a time." (People laughed, and years later, they still laugh.)
For our marketing company, we've been discussing taglines for a long time, trying to fine one that was so simple and short, people would get it right away.  We have tried at least a dozen.
We felt so frustrated!
So we decided to take a step back, get some fresh air, and get in the car! And while we were driving along a gorgeous open road between Cottonwood and Sedona, AZ, Hank tried to boil down exactly what we were doing and for whom we were doing it.
He started with "Who is NOT our client?"  As much as we'd like to come up with new marketing programs for large companies like Pepsi or Home Depot, the reality is that our wheelhouse is smaller companies. Much smaller…from solo entrepreneurs to companies with up to 100 employees. "So why not really embrace that?" he thought.
The next step was, "What are we doing for them?"  And one thing in common between EVERY client we have is this: they've all said that they want to increase their sales.  They want to grow…bigger.
The light bulb went off and there it was, "Small…. made bigger."
Awesome, right?
But wait.
We tried it out recently at one of our marketing boot camps and everyone (all women) in the room said something we didn't anticipate.
"So, you are selling Viagra?"
UGH!
"How about, 'Small business… made bigger,'" Sharyn asked them.
THAT they accepted.
And there it is. Although we might add the word YOUR in front of SMALL.  (You can see how hard this can be!)
Online Marketing
You don't have to market online.  Really, you don't.
You can continue to build your business by going to networking meetings, following up with a phone call, which may or may not lead to a face-to-face meeting, where you can eventually make a sale.   You could send them a Thank You card (we use cardsbyhank.com) for their time and business.
Lather. Rinse. Repeat.
It works, BUT…The speed with which your business grows will lag behind your competitors, as they are establishing stronger relationships much easier and using less time with social media. For example, they are blogging on their website to give up-to-date industry information to their clients.
They are allowing their potential clients to see who they are before they even meet!
When, not "if," you're going to step into the waters of online marketing, here are the two basics you need:
First: You must have a mobile optimized website that is continuously being updated through the use of blog posts.  Over half of the people checking your website are using their mobile devices and you must make it "small screen accessible." In the picture below, you can see that mobile and tablet devices make up over half the traffic on the internet.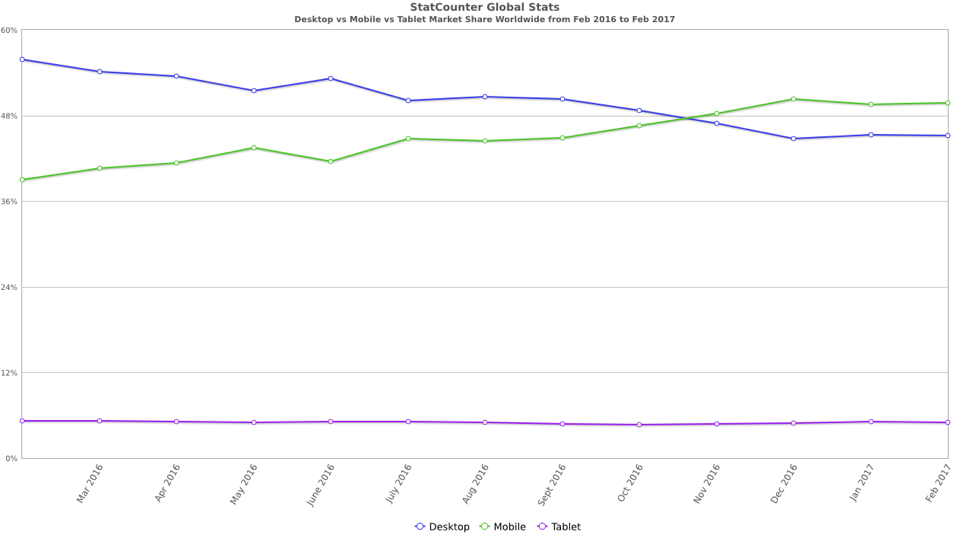 Furthermore, make certain your phone number is at the top and clickable on a mobile device, because a high percentage of those people are just looking to call you – because it's critical to make it easy for them or else they're likely to move on to a competitor.
Second: You must be playing on Social Media. We're not saying you need to be on EVERY social media platform. Just the two or three where your target market is playing the most. More and more interaction between businesses and clients are being handled on this medium, not to mention customer service, so you at least need to have some feelers out.
Social Media is not a silver bullet for all your marketing travails, but it is as much a necessary part of your marketing efforts now as the Yellow Pages were 30 years ago. And there are several Apps which make it easier to plan ahead and let it run (find the one that we use at SetYourOwnStatus.com).  A couple of our Facebook pages would run until sometime in 2020 even if we hopped on a cruise ship for three years and did not buy the internet package.
Consistency
So now that you have your simple message, and you have a place to PUT your message, it's time for the third leg of this marketing stool: consistency.
We hear this ALL the time, "I get started, but then I get busy."
Yes, you do. You are a busy business person and sales take precedence because that affects the bottom line.
Here is our response: By scheduling your marketing efforts, e.g. blogging, meeting with your marketing team, creating some content for social media, you are adding more prospects into your sales funnel.
Start by creating a simple marketing calendar (if you need examples, send us an email) and consider it part of your sales function. It may be that you just do one or two things a day which move your messaging forward. THAT will create momentum, which is what builds your businesses.
And finally…
You know, everyone is taught how to do what they do, but it is rare that they are taught how to market what they do.
And let's face it: marketing done WELL is hard work. Harder, in fact, than what you probably do for a living!
The old saying goes that you can either be an expert at something or hire an expert to help you. Using that as the mantra, we've given you three things that you CAN be great at:
concentrating on a simple and specific message
creating content and pushing it out online
being consistent with your marketing efforts
Being great at these three things will help you tame your marketing and get it focused to help your sales.
Hank and Sharyn Yuloff run a complete marketing services firm, offering traditional and technological marketing plans for small to mid-sized companies. He is a 30+ year marketing veteran and is the author of three best-selling marketing books. She is an online marketing and human resources expert. The couple host a weekly radio program called The Marketing Checklist and are excited about The Small Business Marketing Plan, available for all entrepreneurs to develop in their offices. To reach them go to ABoxFullOfMarketing.com to complete our free Marketing Assessment and schedule a time to chat with them (also free of charge).