Bridget Brady: My 3 Ninja Secrets to Make Social Media Less Painful and More Effective
AKA, there IS a way to make social media work for you and your business…just breathe and keep reading.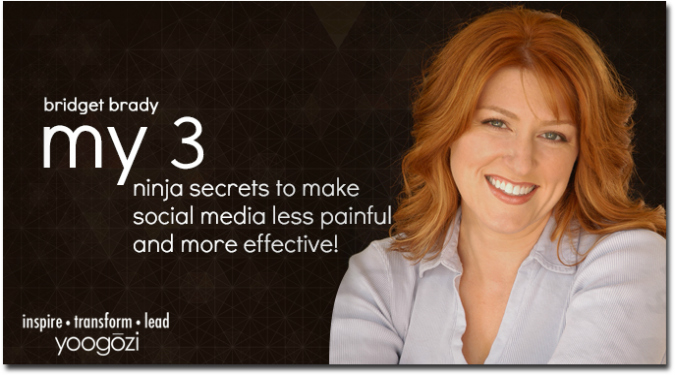 According to the "all-knowing" Internet, here are some current social media stats that, as a business owner, are not to be ignored:

Related: Kim Bischoff: My Top 3 Tips for Creating a Great Company Website
72% of the US population is on social media.
There are 2.3 billion active social media users worldwide. That is expected to grow to 2.8 billion by 2018.
Facebook is the most visited website (of all websites).
Link clicks account for 92% of all Twitter interactions.
YouTube is the #2 search engine (second only to Google).
53% of shoppers have made a purchase based on a social media recommendation.
67% of Twitter users & 54% of Facebook users are more likely to buy products they follow and see on social media.
Social media is the second most effective marketing tactic for customer retention.
90% of marketers say social media is important to their businesses.
Social media is now part of daily life for billions of people across the globe. That's a lot of eyeballs that could be looking at you and your business.
Whatever industry you are in, whatever business you run, if you are not on social media in some way, shape, or form, you do not exist in today's digital world. It's brutal, but it's true.
Here's the problem: "No one" has the time to do social media correctly, and if you are the exception and have the time, what exactly are you supposed to be doing?
Additionally, it takes so dang long to be effective, even if you're doing what you're supposed to be doing! So how long do you wait?
Sadly, many a client of mine comes to me battle-worn, with tear-stained cheeks, and little to no hair, before we get started.
Ninja secrets are coming, but first…
Before we dive into the aforementioned ninja secrets, let's have an adult conversation about social media in general.
Everyone, including me, wants social media to be a magic bullet: that one piece of marketing genius that will solve all your woes, bring you thousands of new clients, millions of new dollars, and all within weeks of launching your new social media campaigns.
I now invite you to take off your highly rose-colored glasses.
Not only is social media just ONE part of your overall marketing strategy, but according to experts, including myself, it takes approximately six months to start seeing results from consistent social media marketing, and 12 – 24 months to meet your significant long-term goals.
My friends, don't let this dissuade you – social media IS incredibly effective when done correctly!
One, your social media success has a lot to do with where you're starting, or your "marketing fitness level" before you begin your new program. The closer you are to your goal, the quicker you can get there.
Two, you must allow consistent effort over time to do its job. Let's say you had 100 pounds of weight to lose, and you were starting at near zero in your nutrition and fitness plan. Would you expect to lose all 100 pounds in the first month or two of working out and eating well? Or…would you expect to see small results at the beginning, knowing that if you're consistent with your program, you'd start to see noticeable results in about 6 months, and be at your goal in 12 – 24 months?
Yup. It's like that. AND it's totally worth it!!
Yes, you need to be consistent; yes, it will take some work; but the work does pay off.
When your brand is buzzing, your business is booming and your bank account is brimming, you will be one happy little camper that you let social media work for you.
Now let's get on with the ninja secrets!!
My 3 Ninja Secrets to Make Social Media Less Painful and More Effective!
1. Give it away, give it away, give it away now! I call this the 75/25 rule, some even call it the 90/10 rule: Between 75 and 90% of your posts must be VALUE-ADD for your audience. Now, before you glaze over into the "I know that" haze, let's take a hard look at BOTH sides of this coin.
• Side one is VALUE. This can be knowledge, tips, education, entertainment, inspiration, and even personal (relevant) tidbits about your life or your company. This can come in the form of blog posts, videos, branded memes, non-branded memes, articles, quotes, podcasts, photos, simple posts, etc.
The point here is that you're giving your audience a reason to follow you. If you are in business, people already know that you have something to offer or sell them. Social media is brilliant at building your K-L-T, Know-Love-Trust, factor. Let people know you, get to like and love you, and then trust you.
From that powerful stance, you'll have plenty of time to offer your services and products.
That said, don't be afraid to end your social media posts with a simple call-to-action inviting them to learn more at your website, share your post, or join in the discussion in the comments.
The ultimate point here is that you should be giving away your best, yes, your best stuff. You will always have more to give, offer and sell. Give it away first, and then people will be asking you to buy more.
Related: Kim Sudhalter: My 3 Pointers for Making Your PR Agency Work For You
• Side two is SELLING. Here's what's funny…some business owners I work with forget to use 10 – 25% of their posts to sell their products and services. Or, they only have one tired, old offer that they've been putting out for the last four years. Y'all, if people have seen that same free report for the last four years, it is time to mix it up!
I understand top-of-funnel and the need to get people into it, but you must have more than one way to get people interested in becoming paying clients. Add a free webinar or tele-seminar, create new videos, create a new event; and YES, offer your paid products and services.
This 10 – 25% is the time where you get to say, "You like my content, now you can get more of it, BUY NOW." (Perhaps not in those exact words, but you get the picture.)
2. The ultimate business purpose of social media is to get people OFF of social media. This one may feel counter-intuitive because you've just spent your blood, sweat, tears, time and money building your social media audience. Don't we just want to hang out now, and be friends?
In most cases people are on social media to be…yes, you've got this one, SOCIAL. Most people don't jump onto their Facebook or Twitter thinking, I'm going to look for something to buy today, yet around 60% of those people are more likely to buy something they've seen on social media. How does this work? It works because good marketers are getting them OFF the initial social media site they were on. They are giving them interesting articles to click, compelling offers to take a closer look at, intriguing headlines that lead them to a website.
Once you have your audience off of the oh-so-distracting social media site you found them on, you have a better chance to have an intimate conversation with them. It's like seeing that cute man or woman at a party, and asking them if they want to step outside to get some air. You're not actually worried that they aren't getting enough oxygen; you want to have a moment with them away from the distractions of the party.
The same thing applies on social media. You want to consistently offer people a compelling reason to leave those hilarious cat videos behind.
3. Re-purpose, re-purpose, re-purpose. You have a business to run, relationships to foster, and a personal life. You don't have, nor should you take, the time to create custom content for every social media platform, every day or every week.
Take your ONE idea, then record a video, write a blog, and create a meme. Now take those pieces of newly created content and post them to the social media platforms you're using. E.g.: Post a link to your blog on Facebook, LinkedIn, Instagram, and ten tweets on Twitter. Post the video to Facebook, YouTube, LinkedIn, and ten tweets on Twitter. Take 59 seconds of that video and post it to Instagram. Post the meme to Facebook, Twitter, Instagram, Pinterest, and LinkedIn.
Get the picture?
This does not all happen on the same day or even the same week. You can take this content and spread it out over the month, or even several months.
You can also repeat content. You noticed that for everything you post on Facebook or LinkedIn, you were writing ten Tweets with that same content. Believe me, your entire audience is NOT seeing every post you publish. (If it could only be that easy!) You can create content based on 20 or 30 new ideas, then use that same content over the course of an entire year.
Related: Alli Ferguson: My 3 Powerful Secrets to Creating Lasting Happiness
Here's the important caveat to this super-ninja secret: it cannot "look" like you're doing this.
How you avoid it looking like you're sending out the "same old" content is two-fold:
a. One, continue to post other little tidbits of yummy for your audience each week. E.g.: Selfies (yes selfies, people love them; working, speaking, hanging out with your family, flying to a conference, etc.), little thoughts you have during the day (congruent with your audience), pictures you take, observations about the world, a business challenge you overcame for a client, testimonials, videos, Facebook Live, etc.
Think of these posts more like documenting your business and your life, rather than having to constantly be creating something new. It's easier, faster, and lets people in to see you and your business, building that coveted K-L-T factor.
b. Two, engage with your audience! Reply when they comment, like their comments, respond to their messages, add new thoughts to existing posts. Even if they have seen a similar idea or post from you in the past, if you're engaging with them on a daily or weekly basis it feels new, authentic and real for them.
Important note on ALL of this: I've hinted at it throughout this article, but I want to make sure you've gotten it. On every single social media post you create, it must be congruent with your brand and relevant to your audience. Yes, every single post. Otherwise, people get confused and can get turned off. If you're using social media for personal reasons, you can do almost anything you want. When you're using social media to build a business, you must stay congruent and relevant in every post.
Of course, if you or your team lack the time, desire or expertise to launch an effective social media campaign, don't discount the value of hiring an expert in the field. You wouldn't hire a gardener to perform a tonsillectomy, right?!
Regardless of how you get your social media marketing out into the world each week, my highest recommendation to you is to DO IT. I was recently talking to a very successful spa owner who said it best, "Social media has become a cost of doing business. Any business that doesn't have an amazing website and a strong social media presence will die. I don't actually know how much business I specifically get from my social media marketing. I do know how much business I'd lose if I wasn't doing it."
---
Bridget Brady is the Owner and Founder of Amp Up My Biz, a full-service online marketing agency, specializing in helping entrepreneurs and small business owners grow! They offer Social Media Management and Training, Website and Graphic Design, and Speaker and Sales Training. Bridget is a #1 International Bestselling author, award-winning entrepreneur, and speaker. She has helped thousands of small business owners grow their business and bottom line. She is passionate about helping entrepreneurs achieve success while creating more joy and freedom for themselves and their teams.
Learn more about Bridget and what Amp Up My Biz can do for your business at https://AmpUpMyBiz.com.