Deanne Marie: My 3 Surefire Secrets to Creating an Irresistible "About" Page
How to Maximize Your Website's Prime Real Estate to Attract and Convert Your Ideal Clients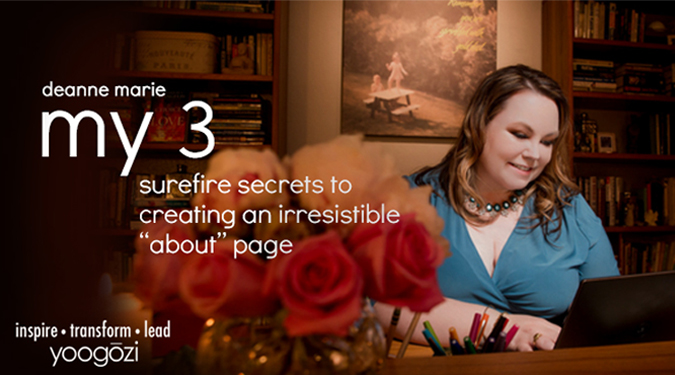 Have you heard? Your About page is prime real estate! Analytics often show the About page as one of the most frequently visited pages on any website. This is true whether you're a solopreneur or a multinational organization or anything in between.

Sadly, About pages are also one of the most neglected pages on a website, which is a shame. People want to know about you and your company, and what you do that can help them. That's where a great About page comes in.
Related: Deanna Won: My 3 Lessons in Courageous Decision-Making
Your About page can accomplish all of that and more! To create an irresistible about page that not only attracts your ideal clients but also helps more of them say "yes!" to working with you, you need three ingredients: content, flow and design.
1. Realize your About page isn't all about you
There was a time when your About page was the place to tell your story, i.e. your biography. But now, website visitors are looking for something more than that.
This may come as a surprise, but your About page is no longer just about you.
What are visitors really looking for when they look at your About page? Reassurance. Reassurance that they're in the right place, that you understand their pain points, and that you're the right person to help them.
And, reassurance that you're not a loon. That you're a real person they can trust. So, you're still in there, but presented in a different way than a straight bio or resume.
The best About pages weave together your background, expertise and values with answers to your potential client's questions and hesitations. It's mostly about them, and then how you got to where you are so you can help them.
Here's a simple formula:
Start with them. Where they are and what they're struggling with.
Then talk about the products, services or solutions you can provide to address these pain points. Tell stories.
And then bring in your background and your values. How you can relate to what they're going through.
The goal of an About page is to speak to your ideal clients and to help them identify with you. It builds that know, like and trust factor.
By the end of the page they should feel like they know you, and more importantly that you know them.
2. Extend an invitation
Remember dating? Have you ever been in a situation where you're out at a party or a mixer and you meet someone, and you're talking and having a great conversation? You think, "Wow this person is great! We've got some chemistry here!"
And then it just…ended. The party's over, no details exchanged, no one asked the other out. Just…nothing.
Didn't you hate that?
Well, your About page can be like that initial exciting encounter that leads absolutely nowhere, or it can ask your visitor to take another step with you…like a first date. Then who knows where it can go from there?
Related: Dave Braun: My 3 tips on How to choose books to read
Think of your About page (really, every page of your site) as a step in your potential client's journey with you. The page should naturally flow to the next step.
Don't simply end your About page and leave your potential client hanging. Give them someplace to go next. Have a call to action. Invite them to take the next step with you. Make it easy for them to say yes, and make it easy for them to click and be taken to that next step.
In other words, do the work for them. Make it so simple they don't have to think about it.
If a person gets all the way to the end of your About page, they're either going to be ready to commit, a little interested, still kicking the tires, or outta there (in which case they weren't your ideal client and wish them all the best!).
Knowing this, here are some suggested ways to entice your ideal client to take the next step with you:
Invite them to dive in with a service or a discovery session (ready to commit);
Ask them to provide their details in exchange for your free gift/opt-in (a little interested); and/or
Give them the option of reading some of your best blog articles—your cornerstone content—or following you on social media (not sure yet, still kicking the tires).
You can accomplish this either through linked text or buttons. Personally, I do both.
Let's say you're a coach who helps people achieve their dream life. The linked text can say something like:
If you're ready to create the life you've always dreamed of, schedule a complimentary discovery session with me. (Link to your scheduling app.) Not ready to work with me? That's OK, but I hope you'll accept this free guided visualization as my gift to you. (Link to your opt-in.)
No matter what, you'll want to check out my blog posts about creating a dream board or 3 ways you might be sabotaging yourself and you don't even know it! (Link to your blog.)
Add the links where appropriate. And then at the bottom of the page, you could include big, beautiful buttons that can catch the skimmer's eye—even if they don't read all the text.
3. Make it visually interesting and mobile friendly
Remember the adage, "Neatness counts!" from grammar school? Well, it's the same with your About page. Style matters. Visuals matter.
Related: Steve Smith: My 3 Steps for Playing in Your Zone and Achieving Professional Excellence
According to a survey commissioned by Adobe, given 15 minutes to consume content, two-thirds of people would rather read something beautifully designed than something plain.
I was working with a client who needed to hire a personal assistant to help with errands. She had it narrowed down to two candidates, and we went online to look at—you guessed it—their About pages.
One was…odd, to put it nicely. Hand drawn caricatures, a '90s looking typeface and a strange, disjointed layout that provided no substance to what was otherwise a promising-sounding service. It didn't match her online ad and credentials at all.
When we went to the other candidate's page, it was literally a breath of fresh air. Calming colors, a professional-looking headshot and easy-to-read text all said, "I'm the one!" It was like night and day; and even though the second candidate charged a lot more, her presentation sealed the deal.
Consider these rules of thumb when designing your About page:
Avoid a page of just text. Break it up with graphics, testimonials, videos, photos, pull quotes, inspirational quotes…something! No one will read a page of just text. Trust me. No matter how well written it is.
It's OK to show "you" on your About page! Incorporate a professional headshot and, if possible, a more candid photo of you, like a shot of you speaking, spending time with your family, or doing something you love. Let people see you and relate to you.
Speak to your brand through colors, typography, flow, and feel. Your About page should fit with your overall brand and style.
Finally, work with your website developer to ensure that your About page is mobile friendly. There are a lot of different surveys and predictions out there, but it's safe to say that well over half (some say more than 70 percent) of your site viewers will be viewing your site on a mobile device, either exclusively or in combination with a tablet and a desktop or laptop.
Related: Keith Baldwin: My 3 favorite tips for building strengths based teams
Don't let a jinky mobile view stop your clients from finding, following, and hiring you!
Hands up if you have an About page you need to rework!! Start where you can, and in most cases, that will be at the top—adding in that service piece that speaks to your ideal client. Then revamp the page as you have time and resources, adding photos, perking up the layout and optimizing for mobile viewing.
In no time at all, you'll have an irresistible About page that has fans flocking to you.
---
Deanne Marie is a creative director, writer, and designer who works with entrepreneurs, small business owners, and non-profits to reach their ideal clients and transform people's lives. She provides strategic direction, fresh ideas and engaging content for blogs, websites, social media profiles and more. Check out her About page here: https://www.evolvemarketingdesign.com/details